Around the time we introduced Paperpal to the world last year, ChatGPT launched with a splash and quickly went viral. By May 2023, interest levels escalated and many of our academic users were typing academic writing "prompts" into every available text box on the Paperpal platform. Fortunately, our sister brand CACTUS Labs, which leverages AI and deep learning to create the robust technology behind Paperpal, was ready to unveil our secure, proprietary generative AI model. Built on expertise gained over 20 years of professional academic editing and trained on millions of published scholarly articles, Paperpal quickly emerged as the perfect alternative to ChatGPT for academics.
The quest for smarter, more efficient AI writing solutions had taken a fascinating turn. Here, Charlotte Baptista, Head of Language Automation Product Development, Paperpal, takes you on a journey behind the scenes of a remarkable transformation that made Paperpal a better alternative to ChatGPT and other generic AI writing tools.

Recognizing Problems with Generative AI Prompt Writing
Being early adopters of OpenAI models since its launch, we knew first-hand that ChatGPT was capable of delivering great results, but only if you ask the right questions. The key then, especially for academics, was to master AI prompt writing to generate the intended results. The problem was that the world was only beginning to explore generative AI tools, which made the task of crafting effective academic writing prompts quite challenging.
At Paperpal, we also knew that English was the second language for a majority of authors who used our comprehensive suite of features to improve their academic writing. This just added an extra barrier when it came to communicating with AI to get high-quality outputs. This became clear when we saw the different kinds of academic writing prompts authors were entering into the Paperpal platform.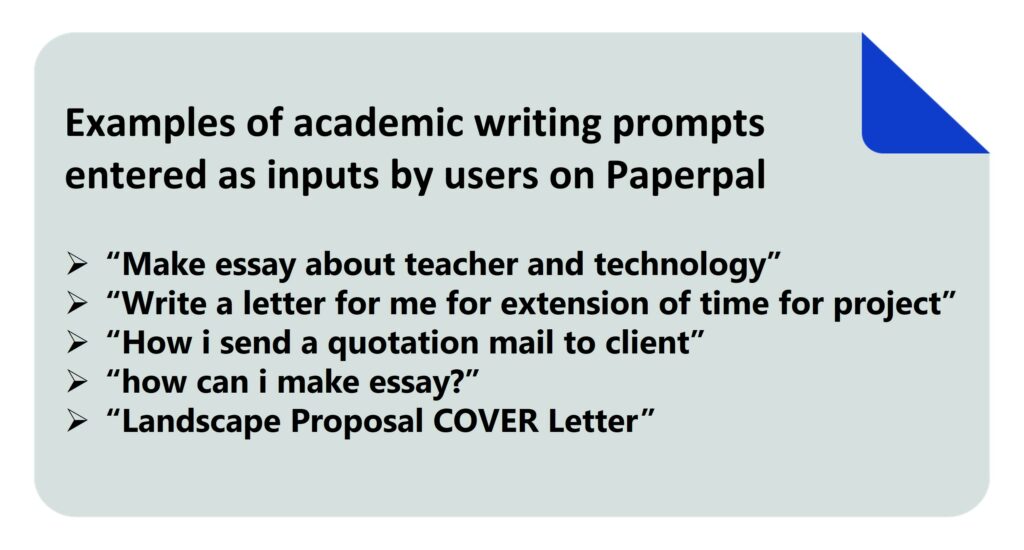 Paperpal Eliminates the Need to Master AI Prompt Writing
With so many of us on the prompt engineering learning curve, the team knew that Paperpal Copilot, generative AI tailored to support academics, needed to find middle ground. So, we set out on a journey to simplify academic writing prompts for academics by focusing on three key problem statements:
How can we address the articulation barrier in AI prompt writing with most of our users being non-native English speakers?
How can we ensure the generative outputs adhere to the nuances of academic writing given the many-headed beast that it is?
How can we address the usability challenge of AI prompt writing and chaining, which may be counterintuitive to writing productivity?
Drawing inspiration from real users, the Paperpal team designed an experience that reduces the overhead in AI prompt writing while generating optimal results. This hybrid approach has been echoed by UX greats like Jakob Neilson in his recent speculation on the shift brought about by conversational AI on interface design.

On Paperpal Copilot, we worked to largely dispense with explicit academic writing prompts. We ensured that user effort was minimized to clicking a "Generate" button on a feature (as shown above), or at most, adding basic inputs into a user interface to get a specific output (as demonstrated below). Our secure LLM was also meticulously designed to automatically extract additional document context from the editor when generating results.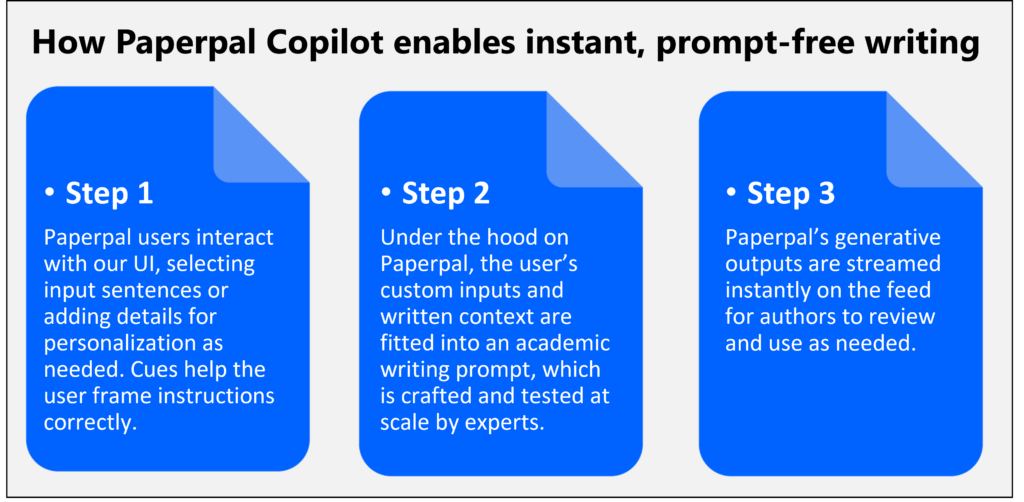 How Paperpal Benchmarked its Academic Writing Prompts
A large part of what makes Paperpal Copilot the perfect AI writing tool for academics is our homegrown generative AI model trained primarily on published academic literature. But to be effective in practice, the academic writing prompts needed to bring the best out of the Gen AI model. We also knew achieving this could be a tricky proposition for many reasons.
Given our expertise with building AI products for academics, we knew the key requirements. First, the language used in the academic writing prompts needed to be clear yet concise, giving the AI a highly specific instruction to deliver a highly specific outcome. Then, there needed to be enough latitude built into AI prompt writing to accommodate user input. And finally, given the ethical concerns around AI-generated academic writing, the AI outputs needed to be useful enough to empower authors to drive the narrative without overtaking or hindering the writing process.
Building the academic writing prompts that power Paperpal Copilot today involved careful consideration and attention to several elements:
Identifying key research writing tasks for which students and researchers typically use generative AI tools.
Keeping the academic author persona and academic writing conventions front and center.
Building adequate provisions for the author to personalize the AI generated outputs.
Designing the AI outputs in the form of outlines or guidelines, rather than full text, in keeping with our role as academic writing assistants.
Adding additional controls to minimize errors and AI hallucination to reduce effort required by authors to correct generated text.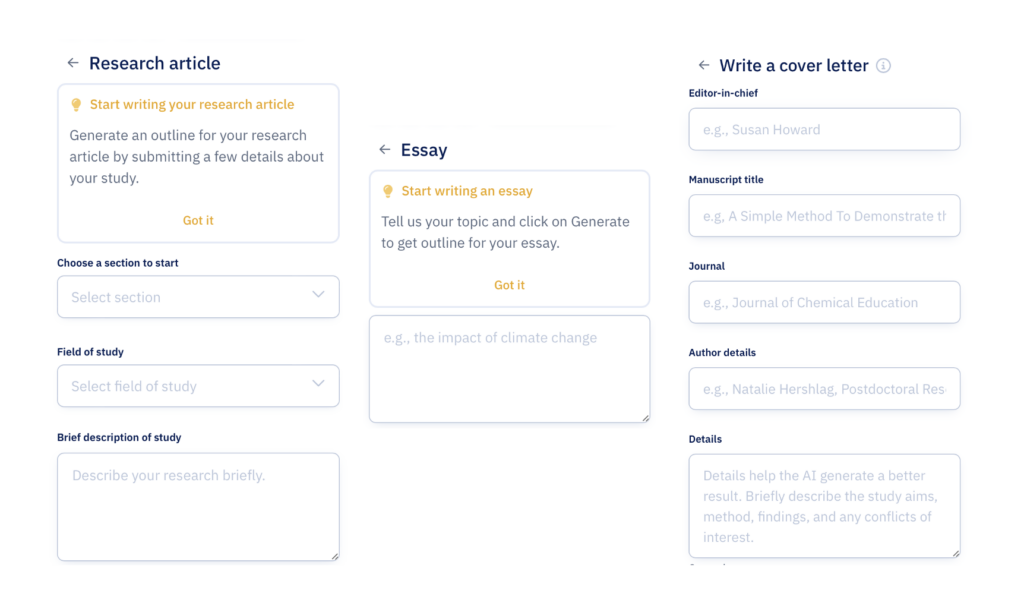 It comes as no surprise then that only a month since its launch, thousands of students and researchers are embracing the generative AI revolution with Paperpal Copilot. Not only does Paperpal provide authors with academic outlines, abstract/title generation, summaries, and academic paraphrasing, it helps you refine your language and grammar to meet the highest quality standards. If you haven't explored Paperpal Copilot's streamlined academic writing prompts yet, don't miss out. Sign up and try Paperpal for free now!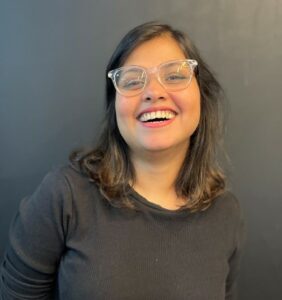 About Charlotte Baptista
Charlotte started out in academic editing, and eventually moved up to Head of Training at Editage, where she sought to empower a large, global copyediting team to create publish-worthy research papers. During this time, she experienced first-hand the challenges researchers face at different points in their publication journey. Charlotte then transitioned to product development, where she uses her expertise to builds tools that solve real problems that research writers encounter from idea to draft and through to publication. Given her passion for automation for success and speed, Charlotte enjoys the process of bringing AI-enabled efficiencies to the academic publishing sector.
Paperpal is an AI academic writing assistant that helps authors write better and faster with real-time writing suggestions and in-depth checks for language and grammar correction. Trained on millions of published scholarly articles and 20+ years of STM experience, Paperpal delivers human precision at machine speed.  
Try it for free or upgrade to Paperpal Prime, which unlocks unlimited access to Paperpal Copilot and premium features like academic translation, paraphrasing, contextual synonyms, consistency checks, submission readiness and more. It's like always having a professional academic editor by your side! Go beyond limitations and experience the future of academic writing. Get Paperpal Prime now at just US$19 a month!